Are you searching for the best garage doors Frome has to offer? Are you looking for a reputable company that provides local service with national support? Then look no further than The Garage Door Company. We supply quality garage doors, ranging from steel sectional to roller doors. In addition, we stock the widest selection of garage doors with options to suit every property, preference, and budget.  
Picking the right garage doors for your home is as simple as using our handy online design tool. When you're done, click through to book a FREE expert survey online and receive 25% off the price of your new garage doors. And take comfort that a Which? Trusted Trader is supplying and fitting your garage doors.  
We have a range of finance options available, so if you'd like to discuss these or anything else, we recommend getting in touch. So, call The Garage Door Company today on 0330 912 7930 to begin a discussion.
The Leading Company in Garage Doors in Frome
If you're actively looking for the leading company in garage doors in Frome, you've come to the right place. At The Garage Door Company, we've proudly supplied garage doors to thousands of customers over the last three+ decades, all installed by our professional team. And we've consistently delivered impeccable customer service, leaving customers eagerly recommending us to friends and family.  
We supply a wide range of garage doors here in Frome, with options including:  
Roller Garage Doors  
Side Hinged Garage Doors  
Timber Garage Doors  
Electric Garage Doors  
Up and Over Garage Doors  
Personnel Garage Doors  
Sectional Garage Doors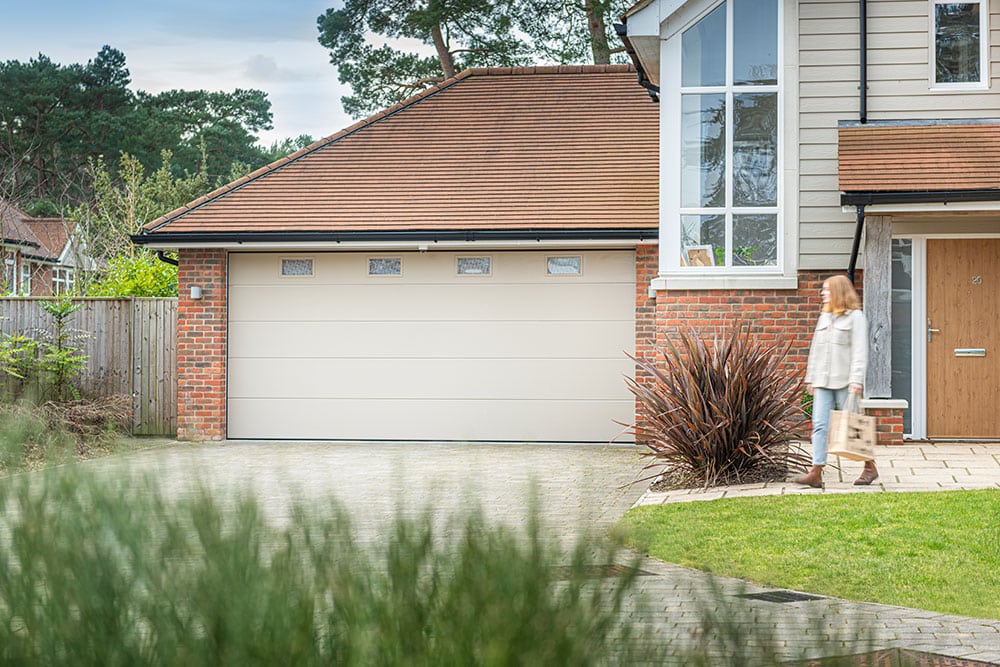 Claim your
FREE

home survey today!
Enter your details below and a member of the team will be in touch to discuss your requirements.
Roller garage doors are one of two excellent space-saving options. Why is this? Because while side hinged and up and over garage doors swing outwards, roller doors open vertically. The door coils up into a module at the top of the door, neither protruding outward nor into the ceiling area.  
Our roller doors are built from either steel or aluminium, come in two options (Steeline and Thermaglide), offer high-performance weather protection, and are available in a choice of colours and finishes.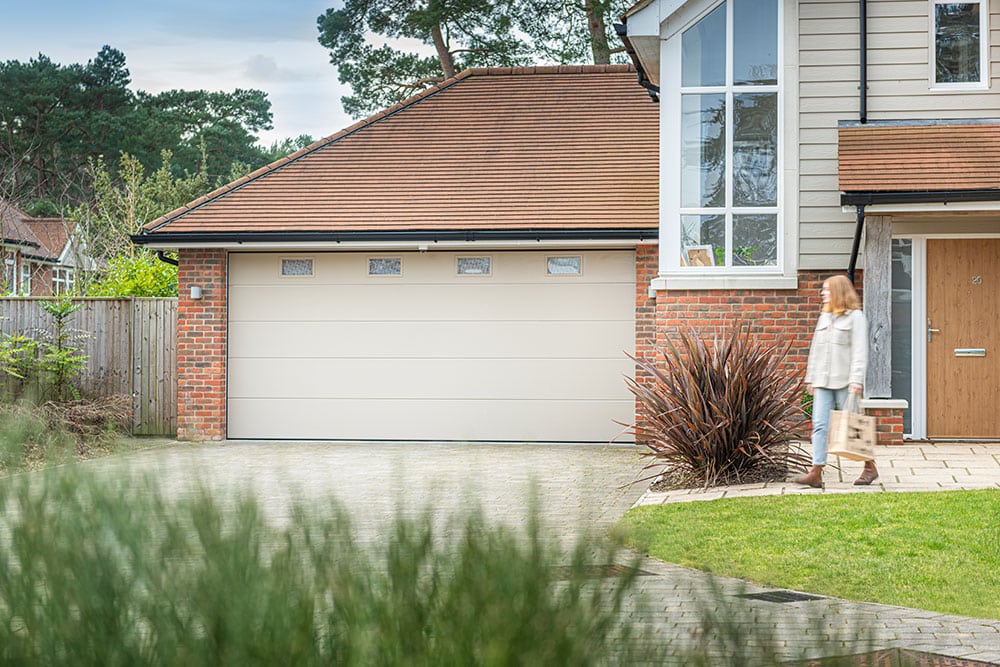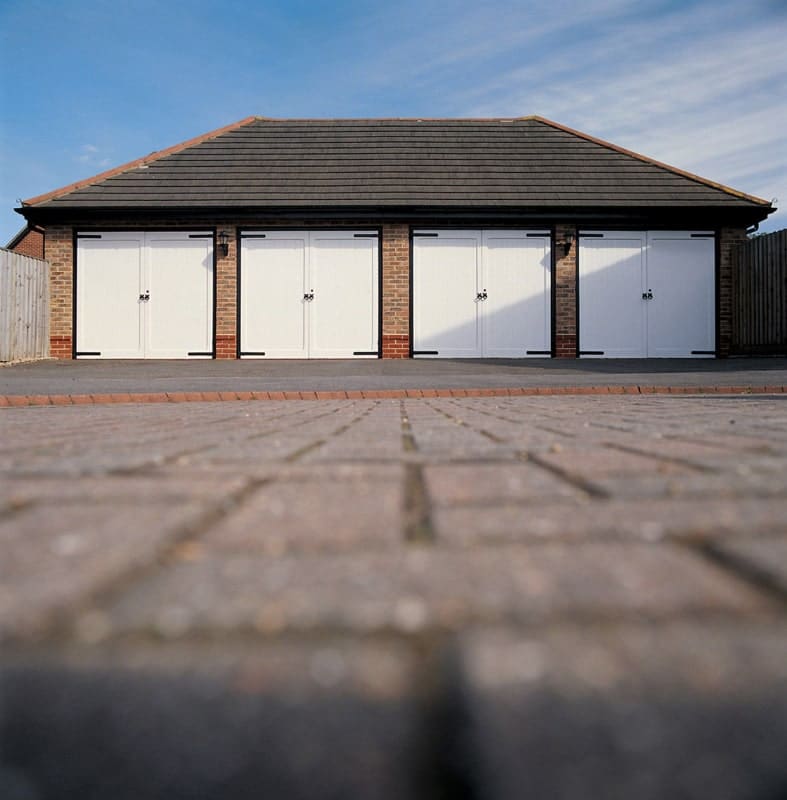 Side hinged doors are the classic option, perfect for those who desire the traditional "barn door" style opening. Side-mounted hinges support two doors that can either be equal in size (50/50) or one door can be larger than the other (offset).  
All side hinged garage doors are available in steel or timber and are ideal for customers that might struggle with operating an up-and-over door. The smaller personnel door can also be used with the offset configuration to gain quick access to your garage.
Our timber garage doors are a stylish, gorgeous alternative to steel, aluminium, ABS, or GRP options. Our timber doors are handmade in the UK using quality, solid cedar wood. With a range of styles available, you can choose a set of timber doors that matches your home splendidly.  
And rather than being a separate range, all the door openings (except roller doors) listed are available in timber. In addition, when you order timber doors, they'll be delivered with a base coat applied – they need only be painted.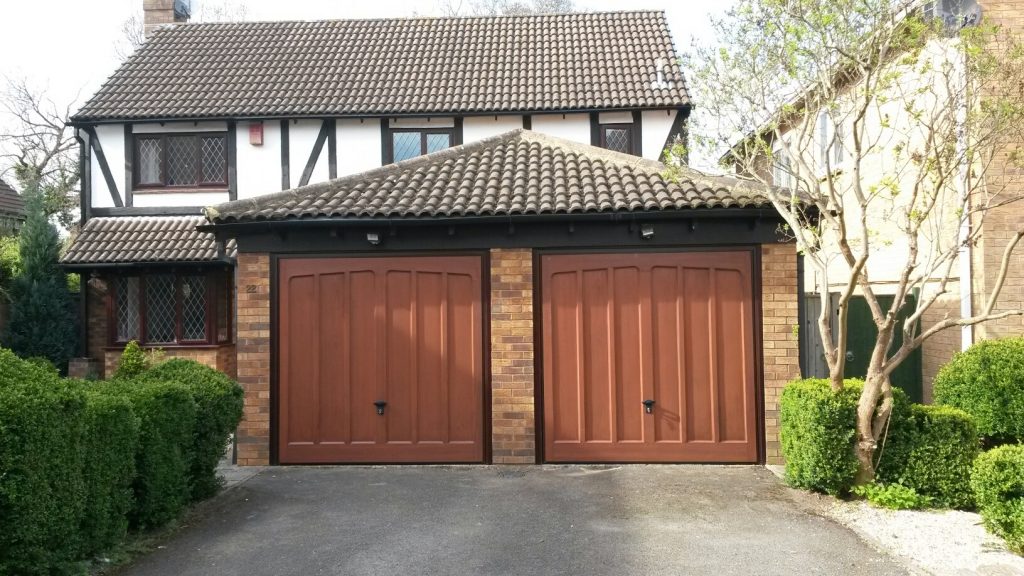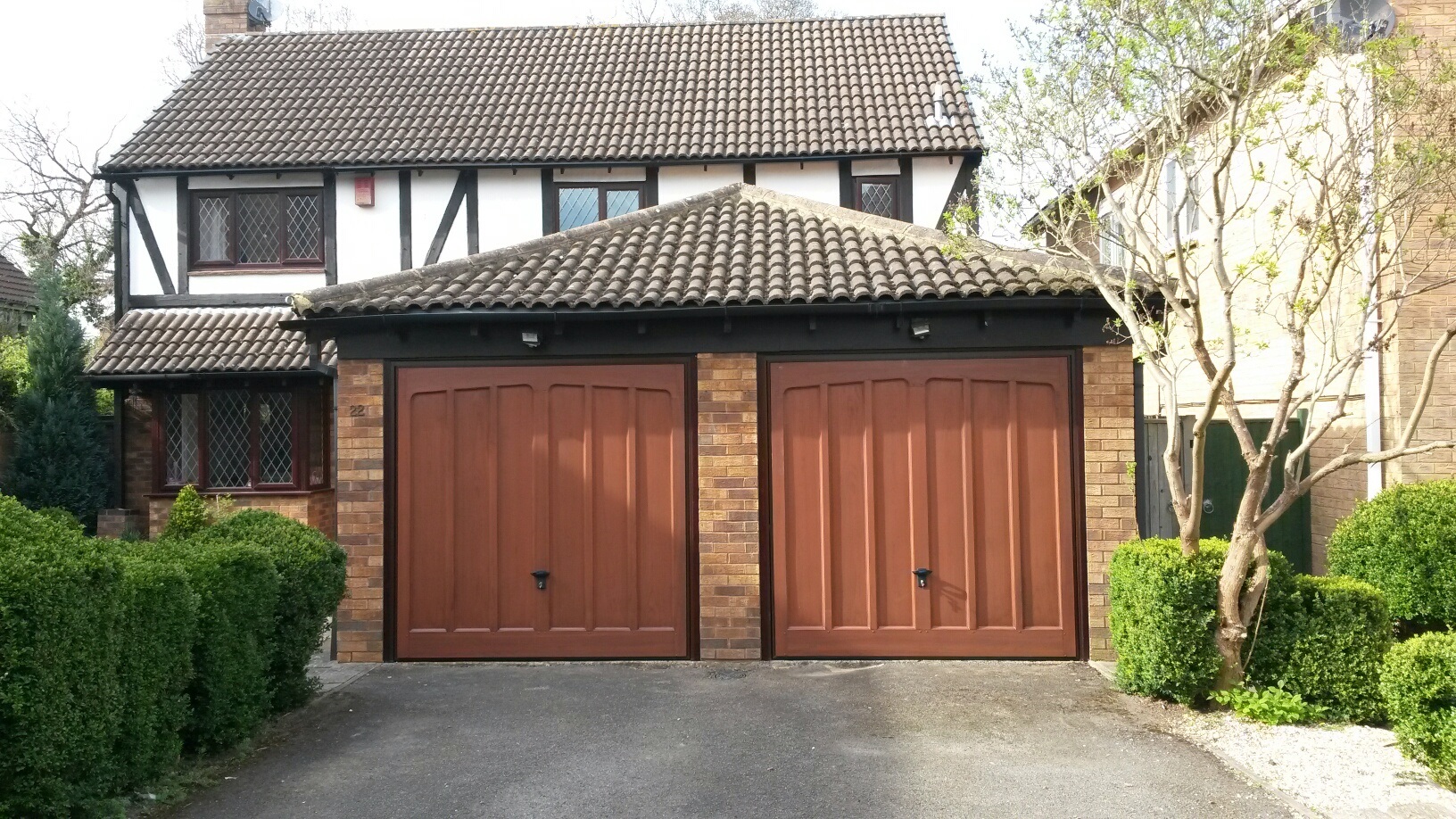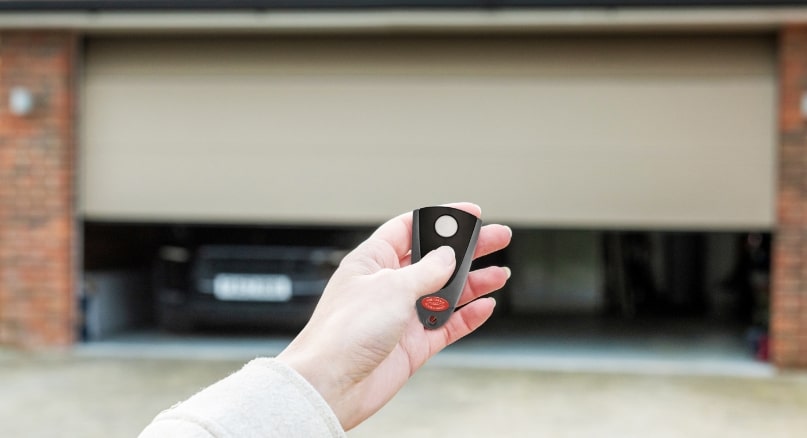 The Garage Door Company are the market leader in supplying fully automated garage doors. Automatic doors are excellent because they offer fantastic benefits, such as the ability to drive in or out without stepping outside your vehicle to operate the door.  
All door opening types can be upgraded with electric operation, and all come with a five-year guarantee specific to our electric doors. Plus, our electric doors have other features, such as a rapid-fast opening and closing speed, remote operation, and a soft-start function as standard.
Up and over doors are another classic option that's a favourite among homeowners. As the name implies, these doors push inwards, kick out, and then slide up and over. While open, a portion of the door protrudes outwards, creating a canopy. For this reason, these doors are better suited to larger driveways or garages that don't open onto public footpaths.  
But the trade-off is that these doors are budget-friendly and cheaper than the other options listed. In addition, they are lightweight, strong, durable, and look magnificent, available in GRP, steel, or timber, and in a range of styles, finishes, and colours.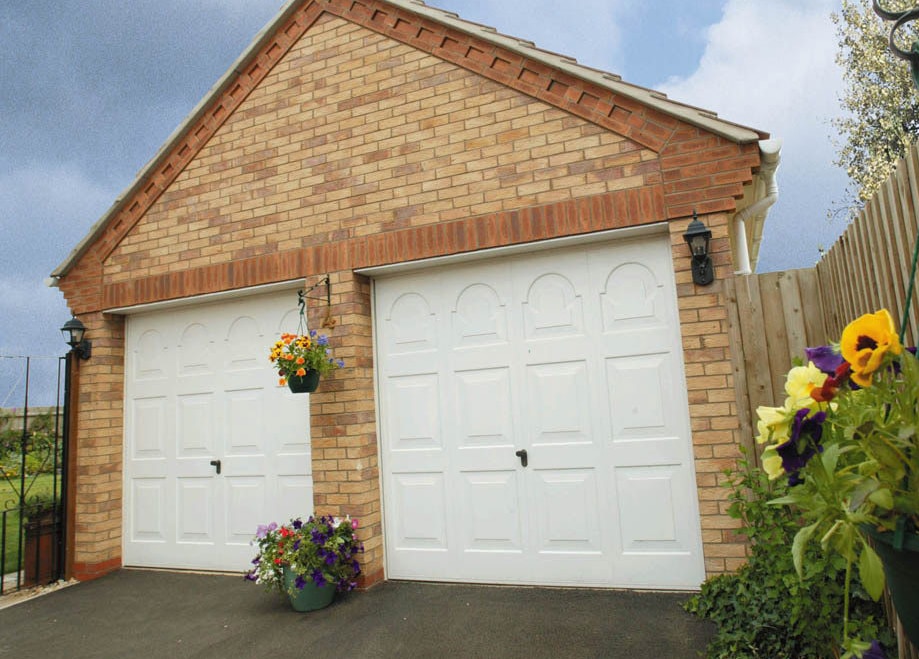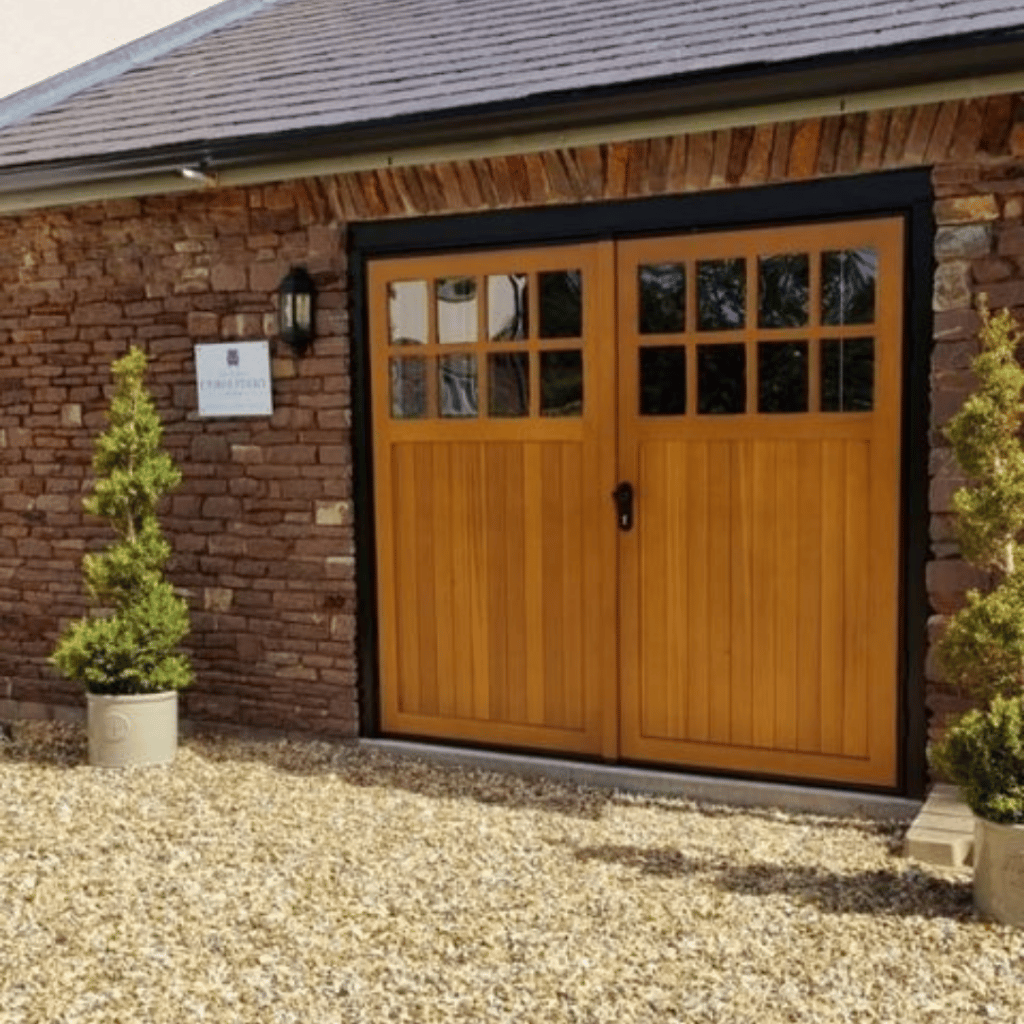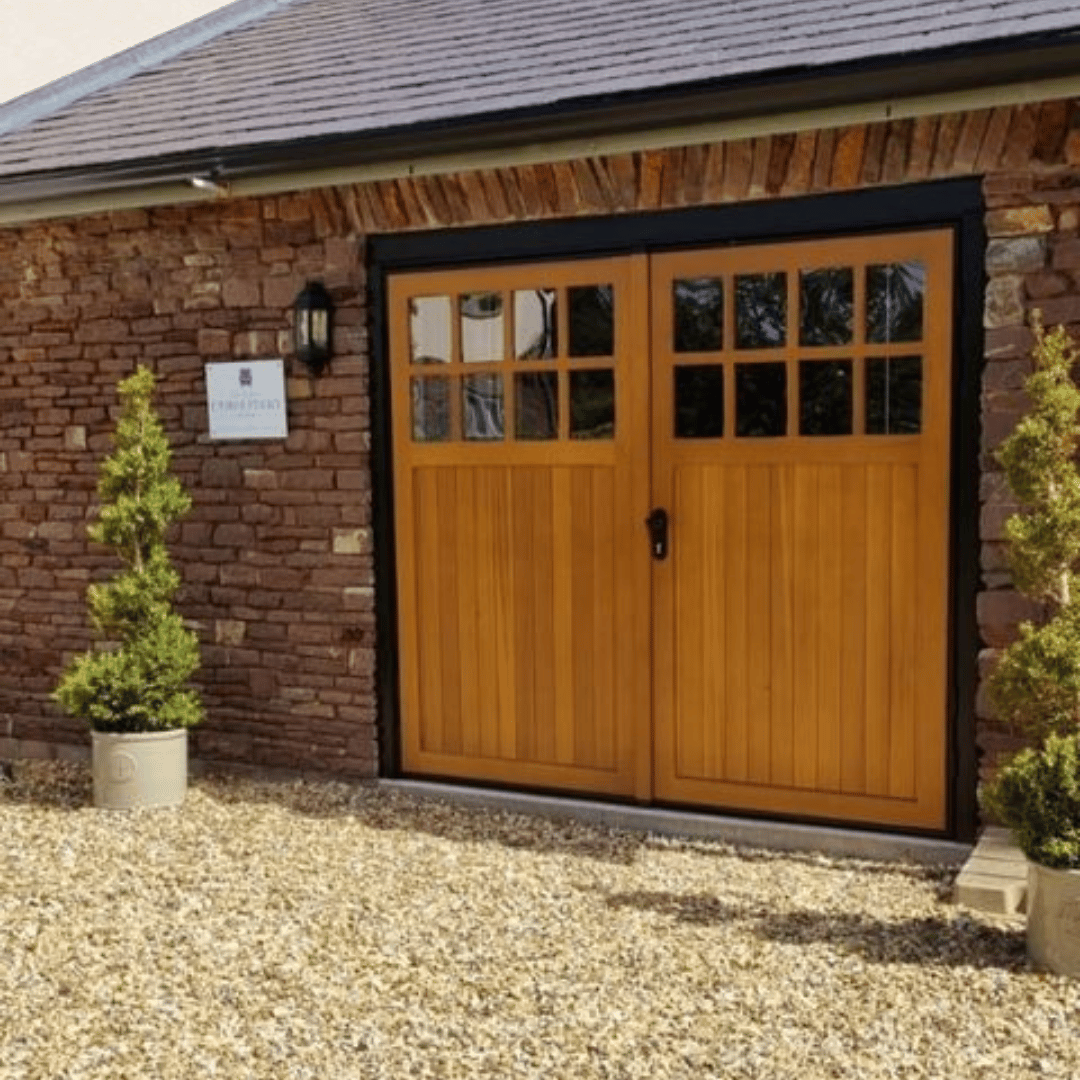 Personnel garage doors provide a simple and quick way to access your garage in situations where you don't need to use your vehicle. They are the size of the doors installed inside your home and are entirely manual. You can quickly enter to grab a tool or fetch the lawnmower with a personnel door while the main door remains closed.  
Our personnel doors are stylish, secure, strong, and durable and can be matched to the main door for a sublime finish. 
Sectional garage doors are the second space-saving option that we offer. These doors rise vertically, though they differ from roller doors in one regard. They consist of individual panels connected by hinges. As the door rises, the panels fold backward, and the door slides into the ceiling.  
Sectional doors are great for property owners who need a space-saving solution but don't intend to use the ceiling area for storage. Our sectional doors come in timber, steel, or aluminium and sport high-performance weather protection and highly secure locks.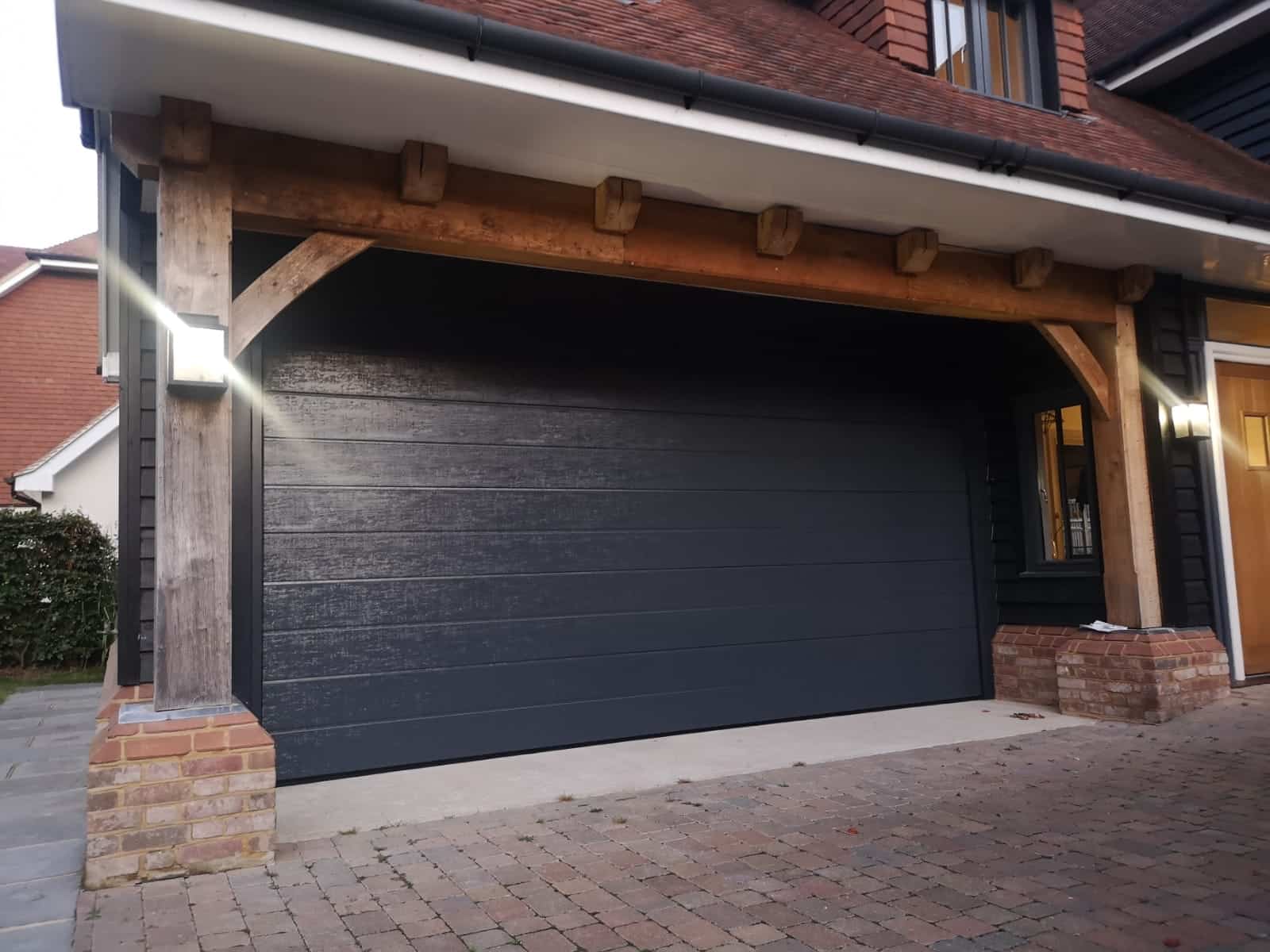 Additional Services We Offer
In addition to supplying and installing garage doors, the team at The Garage Door Company can also service and repair garage doors. If your doors are acting up or you wish to pre-empt and issue, just give us a call today.
Why Choose the Garage Door Company for Garage Doors?
The Garage Door Company boasts over 30 years of experience and a reputation that sets us apart from our competitors. Our customers tell us that it's our attention to detail that they most admire, including our attention to the manufacture and installation of new doors. We specialise in German engineering built in Britain. In fact, that's our motto.  
You'll find it tough to match our quality or affordability – beat us any genuine, like-for-like quote, and we'll beat it on the spot. And through our continuous training programme, we're always putting our customers first by ensuring that our team is always up to the task. So, if you'd like to see what we have to offer, we invite you to visit us at our showroom. Get in touch using the details below to learn more. 
So, if you're looking to purchase a brand-new set of garage doors, look no further than The Garage Door Company. Our name is synonymous with quality, and our reputation as the largest supplier of garage doors in the UK is well deserved. Remember that with The Garage Door Company, you can design your garage door online before you even book your survey.  
And when you proceed to book your survey online, you'll receive 25% off on all garage doors. So, come to us for expert advice, fast delivery, and professional installation that ensures a worry-free experience from start to finish. The survey, supply, and installation are fully covered, and with more than 30 years of experience, you won't be left disappointed.  
We're the company to call from side-hinged doors to roller doors. To find out more, phone The Garage Door Company on 0330 912 7930. You can also get in touch by filling out our online contact form or emailing info@thegaragedoorcompany.ltd.uk.