If you're looking to equip your property with a brand-new set of garage doors, Burgess Hill customers won't find a better range of doors anywhere else. The Garage Door Company was founded more than 30 years ago, and over the last three decades, we've amassed a stellar reputation. We boast a client base, with many of our customers happily recommending us to friends and family. 
We're a Which? Trusted Trader and are accredited by CHAS, DHF, and Trustpilot. Such endorsements reinforce our status as the largest UK retailer, guaranteed to stock whatever garage doors our customers want. And if there's a door you want that we don't have, we're confident we can procure it for you. All our doors come with a one-year guarantee and are installed by our crack team of door installation professionals. 
To find out more about our doors, service, and excellent finance options, call The Garage Door Company today on 0330 912 7930. 
The Leading Company in Garage Doors in Burgess Hill
Regarding garage doors, we boast the most comprehensive range of doors in Burgess Hill and the whole UK. We have all opening types, colours, sizes, styles, and finishes under one roof. So, if there's a door you seek and we don't have it in stock, we'll procure it for you. Not sure what garage door would work best for you? Let us know your requirements, preferences, and budget, and we'll recommend the right option. 
We have the following options available here at The Garage Door Company: 
Roller Garage Doors

 

Side Hinged Garage Doors

 

Timber Garage Doors

 

Electric Garage Doors

 

Up and Over Garage Doors

 

Personnel Garage Doors

 

Sectional Garage Doors

 
More details about each of these opening types can be found below. And you can always contact us if you have any questions or would like further information.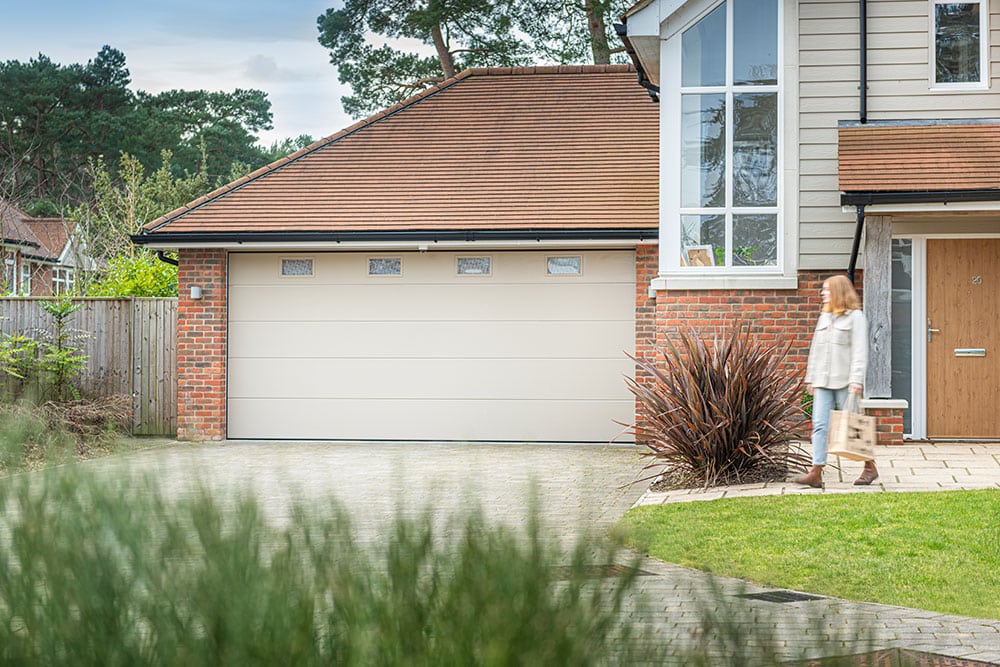 Claim your
FREE

home survey today!
Enter your details below and a member of the team will be in touch to discuss your requirements.
Roller doors are an excellent option, available in steel or aluminium and in two variants – Steeline or Thermaglide. Our Thermaglide options come in two options – 55 and 77, referring to the thickness (mm) of the insulating core. Roller garage doors are built with slats connected by hinges. 
These slats coil up into a roll that rests at the top of the garage door opening. The coil neither protrudes outwards nor inwards, so it doesn't take up ceiling space or stop you from parking your vehicle up close to the door.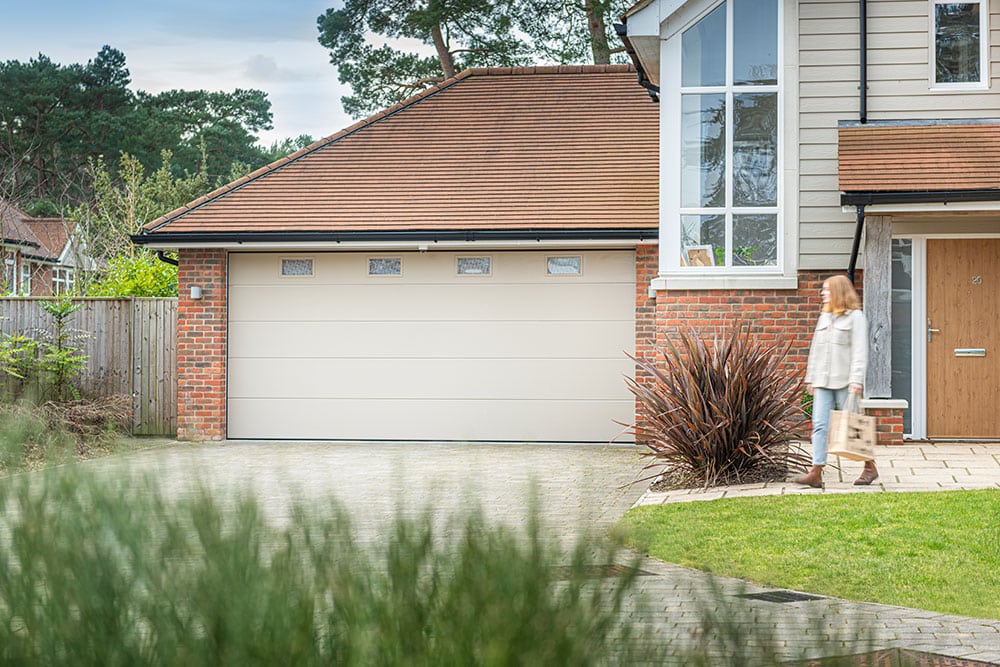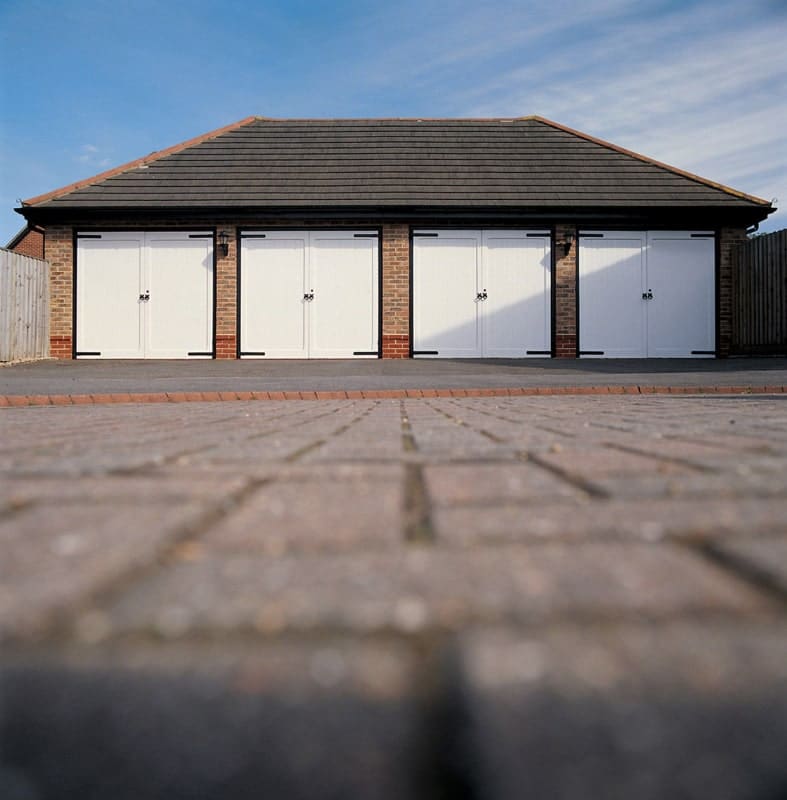 Side hinged garage doors are either steel or timber and can be customised in various styles, finishes, and colours. Moreover, these doors can be configured in either 50/50 or offset configuration. One consists of equal-sized doors, while the other consists of a large main and smaller personnel door. 
If you merely use your garage to store a vehicle, the 50/50 configuration is perfect. But if you frequently access your garage daily, the offset configuration works better. 
If you aren't a fan of metal garage doors, timber garage doors are a great alternative. Wood looks magnificent and only gets better with age. We use quality, sustainably sourced cedar wood that boasts all the exquisite qualities of a natural material. All our doors (except roller doors) are available in timber. 
Plus, they all come with a base coat applied – they just need painting.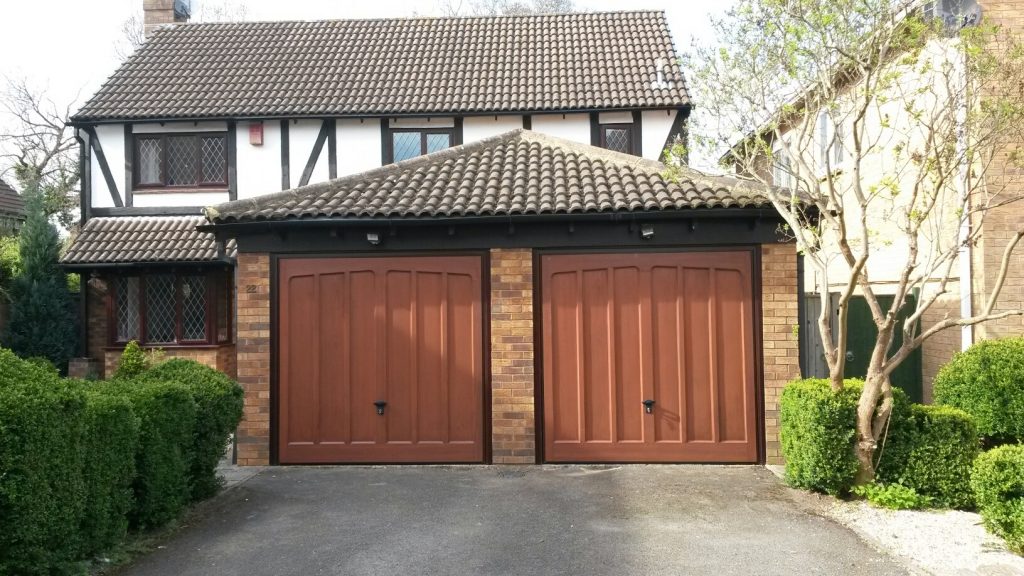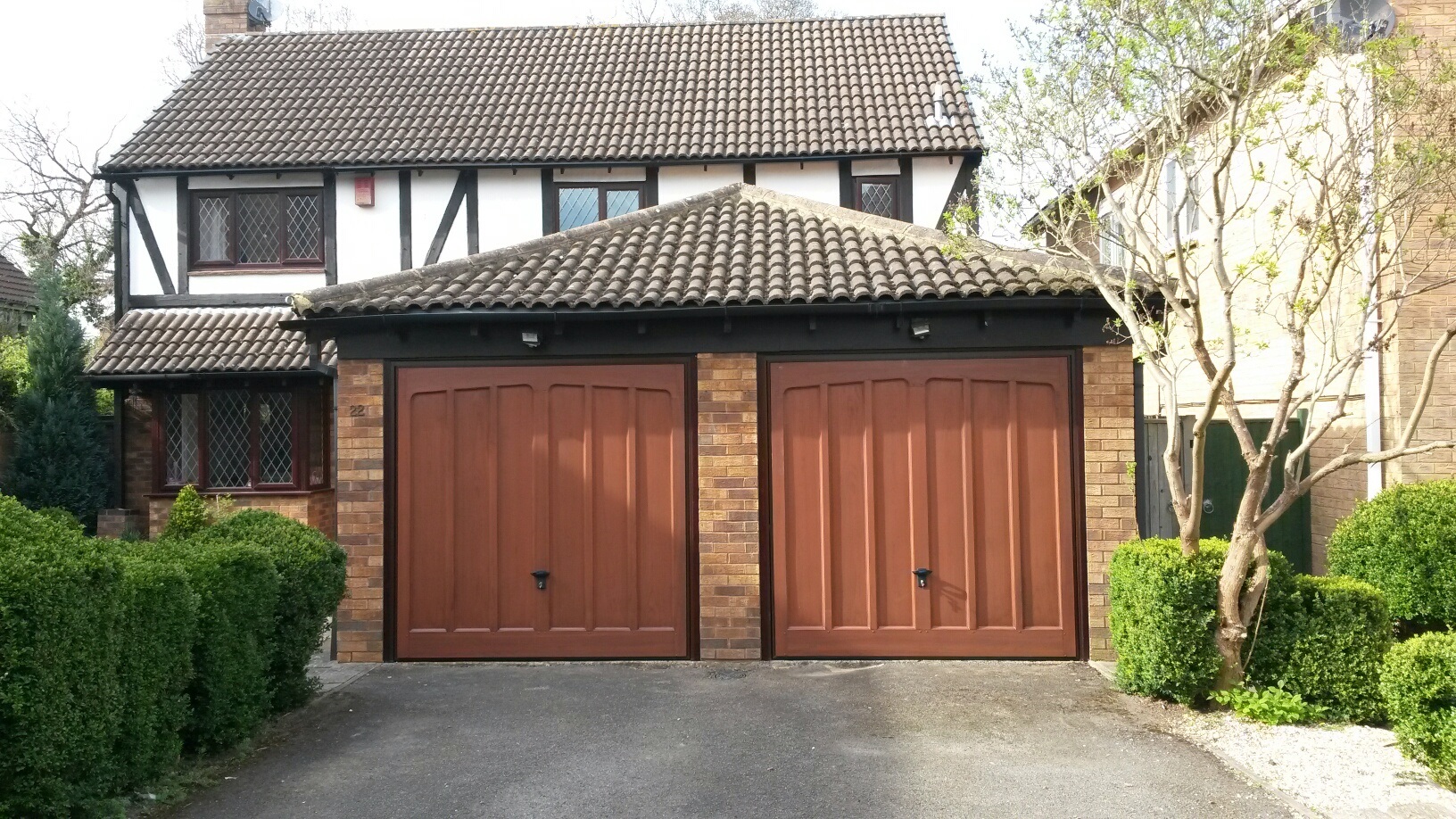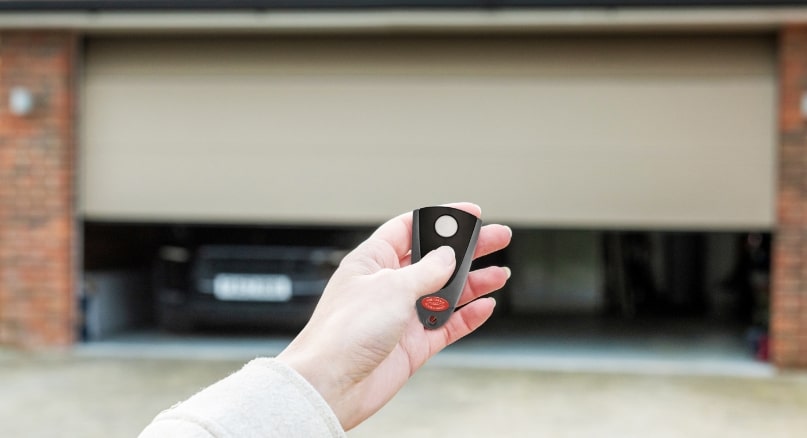 With a manual door, you need to open it. Come rain or shine; this involves stepping outside to operate the door. But with an electric door, you just press a button, and the door opens and closes automatically. Then you simply drive in or out. 
We can install electric garage doors, or we can upgrade your existing manual garage doors. All our electric garage doors come with an additional five-year guarantee, are 50% faster than conventional automatic doors, sport a modern design, and are certified safe to operate by independent institutes. 
Our up and over garage doors are available in steel, aluminium, GRP, or timber and can be fully upgraded with automatic operation. These doors are affordable, strong, durable, and lightweight and an excellent option for those on a budget that need a reliable door. 
As the name implies, these doors open by pushing inwards, kicking outwards at the bottom, and sliding up and over into the ceiling.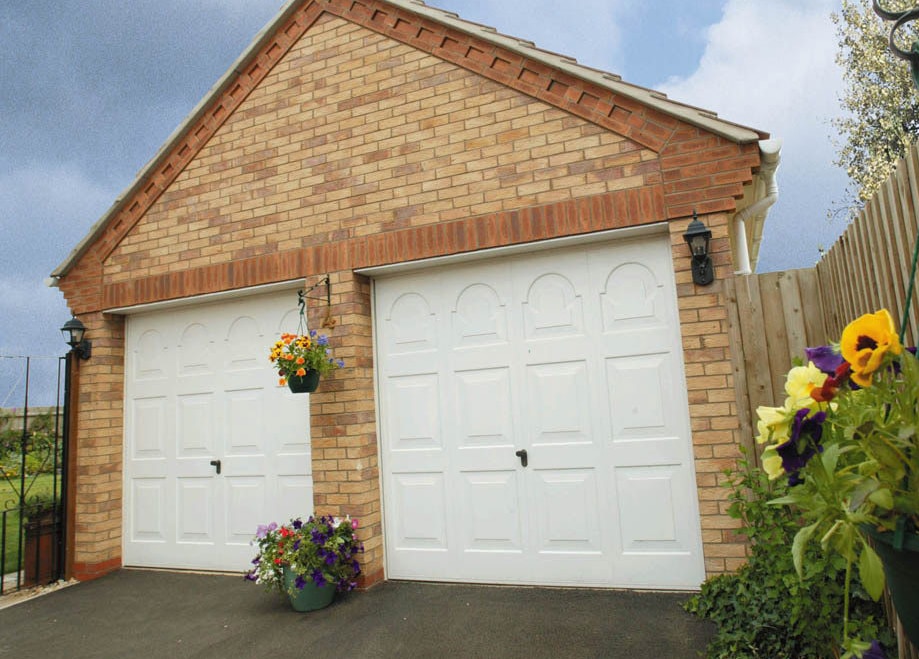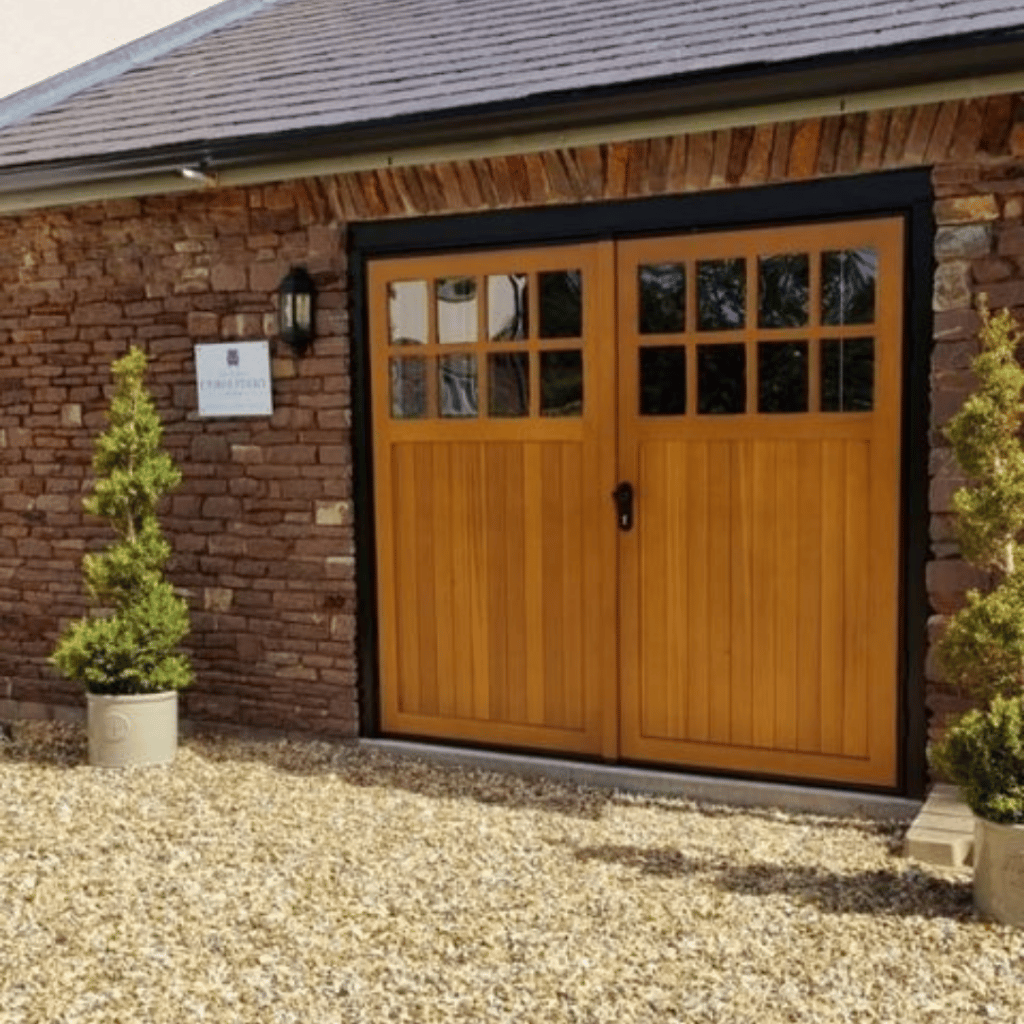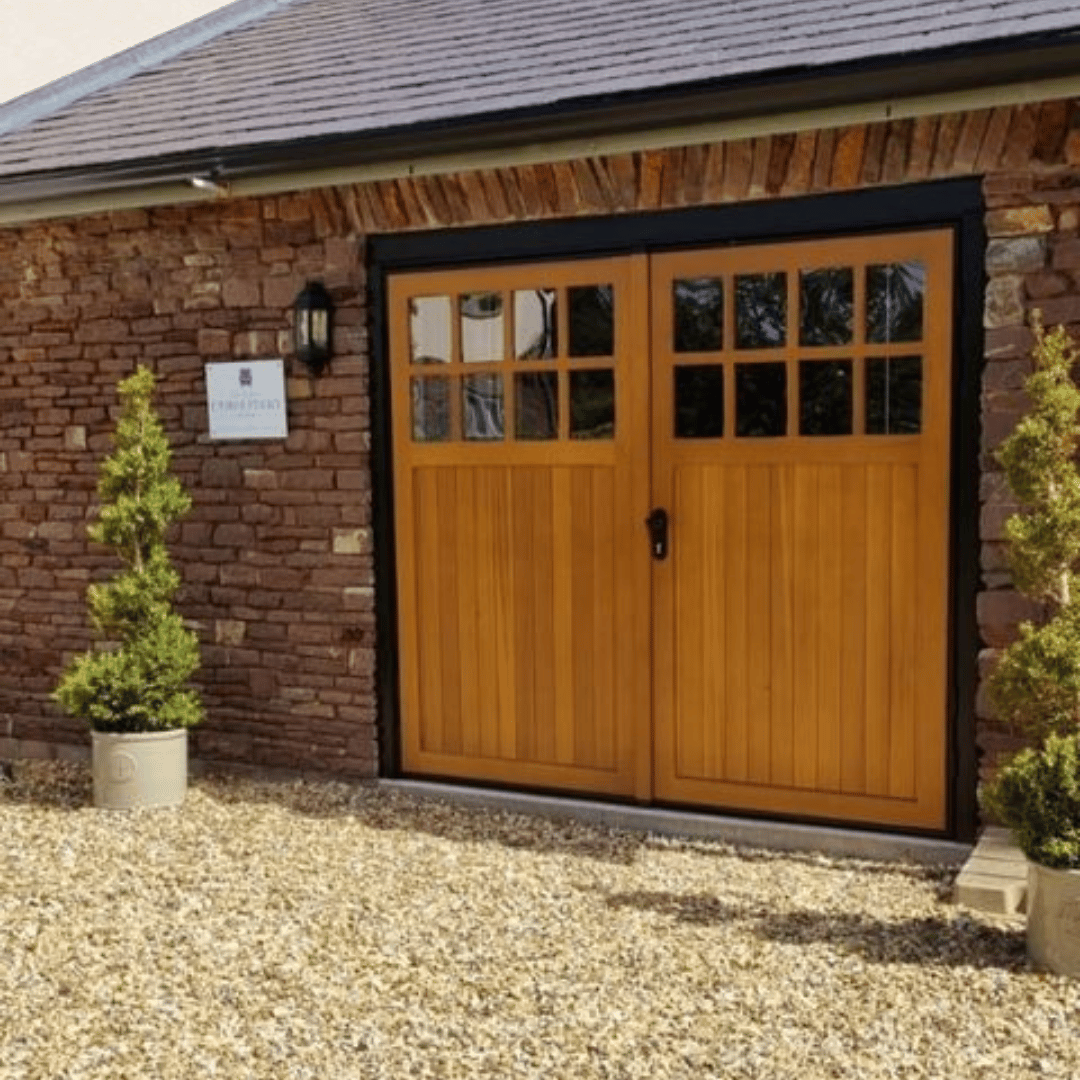 Perhaps you keep spare fridges and freezers in your garage. Maybe you're an avid gardener or enjoy having a separate space to use as a workshop or hobby room. Perhaps you just want the convenience of quickly accessing your garage whenever you need something. That's where personnel doors come in. 
These doors are matched to the main door and can be made available with full insulation and the same security features as their larger cousins. As a result, they are an unbeatable solution for those seeking convenience and speed from their garage setup. 
Where roller doors coil up into a roll that sits at the top of the door, sectional doors are comprised of panels. These are connected by hinges that let the door flex, folding back into the ceiling space. So, with sectional doors, you get a vertically opening door that doesn't protrude outwards at the expense of ceiling storage. 
Our sectional garage doors are built using quality timber, steel, or aluminium and come in an array of colours and finishes. Plus, they boast unbeatable weather protection and insulating performance.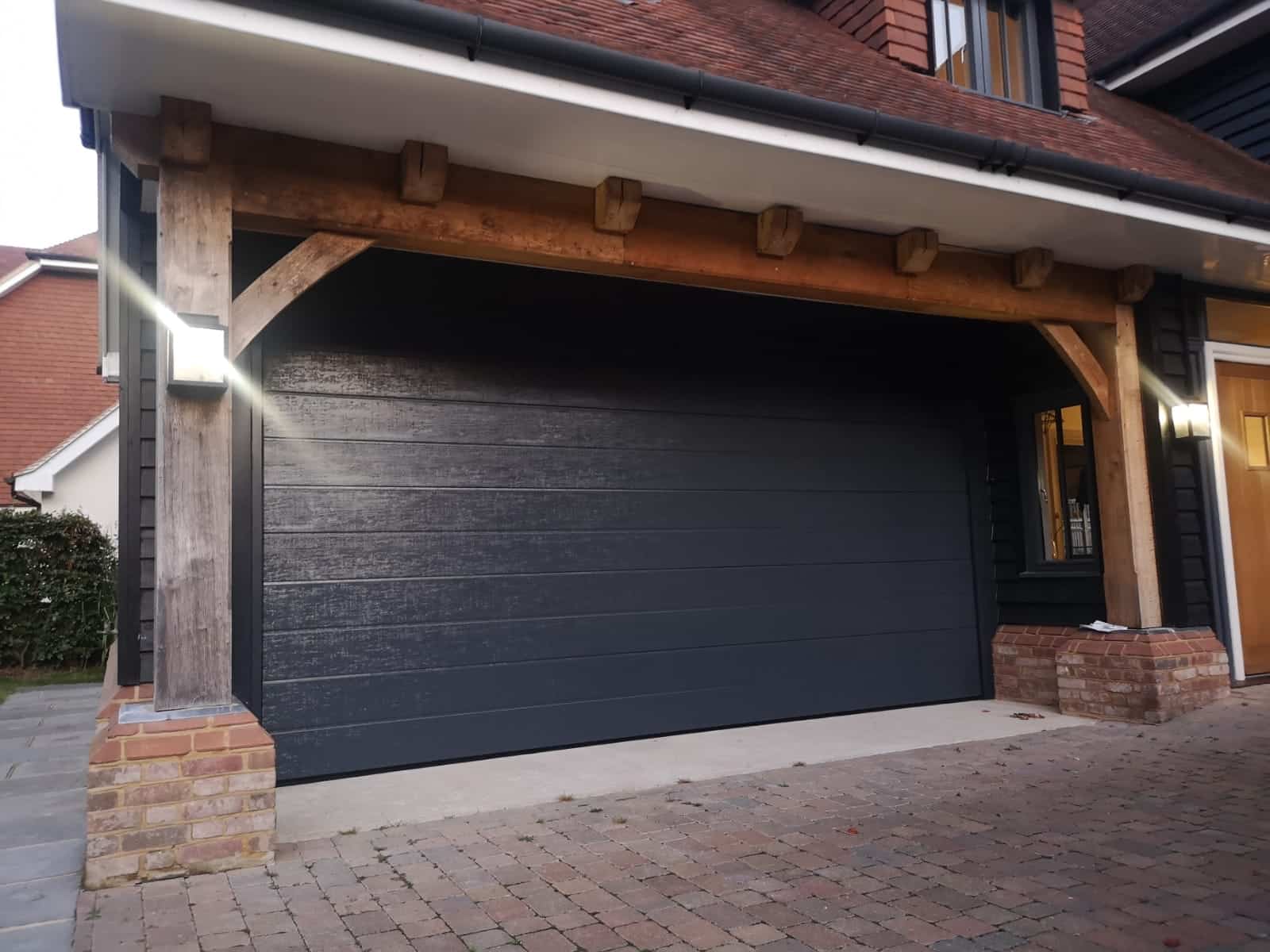 Additional Services We Offer
While installing garage doors is our speciality, we possess a team of fully qualified and certified engineers. For this reason, we can also provide a complete nationwide repair service, and we can service doors, too. So, call us when your doors malfunction, break down or become damaged, and we'll restore them to full functionality. 
In addition, we can carry out a complete servicing of your doors for just £149. We also have tailored options available, so you receive a bespoke service in keeping with your needs. 
Why Choose the Garage Door Company for Garage Doors?
Look no further than The Garage Door Company for top-tier, affordable garage doors built by trusted manufacturers and installed by trained professionals. With more than three decades of experience, you can trust us to provide impeccable service at highly competitive rates. 
Other reasons why you should choose our company include: 
25% Off All Doors When Booking a Survey Online

 

All Doors Fully Guaranteed

 

Excellent Range of Available Finance Options

 

German Engineering Built in Britain

 

Which? Trusted Trader

 

Will Beat Any Genuine, Like-For-Like Quote

 
So, if you're looking to upgrade your garage doors, Burgess Hill customers need to look no further than The Garage Door Company. We supply and install quality garage doors that are strong, durable, reliable, and will last many years. We also provide garage doors that'll complement your home perfectly. 
With more than three decades of experience to call on, you can count on us to deliver the best service at highly affordable prices. So, book your survey online to receive 25% off your garage doors. And come to us with a genuine, like-for-like quote to receive the best offer on your investment. 
And if you'd like to learn more about our excellent garage doors, from roller doors to sectional or side hinged doors, call our team now on 0330 912 7930. Alternatively, email us at info@thegaragedoorcompany.ltd.uk or complete our online contact form, and we'll reply as soon as possible.