If you're in the market for a brand-new set of garage doors, Bridgewater customers need to look no further than The Garage Door Company. We stock many excellent options, from steel roller doors to timber up and over garage doors. Whatever takes your fancy, you'll find it in our inventory with all options fully customisable to suit your requirements and preferences.  
Not only are we known for our excellent range of garage doors, but we're also regarded for our affordable prices. Bring us any genuine, like-for-like quote, and we'll beat it on the spot. And when you book your FREE survey online, we'll knock 25% off the cost of your garage doors. And by enlisting a Which? Trusted Trader, you can take comfort knowing that you're in safe and capable hands.  
To get started or learn more, pick up the phone and call our team today on 0330 912 7930.  
The Leading Company in Garage Doors in Bridgewater
With more than 30 years of experience, you can trust The Garage Door Company to provide a well-informed, expert service. We promise impeccable service from the outset with our efforts tailored to your requirements.  
We recognise that everyone has different requirements, which is why we offer an array of garage doors to choose from, such as: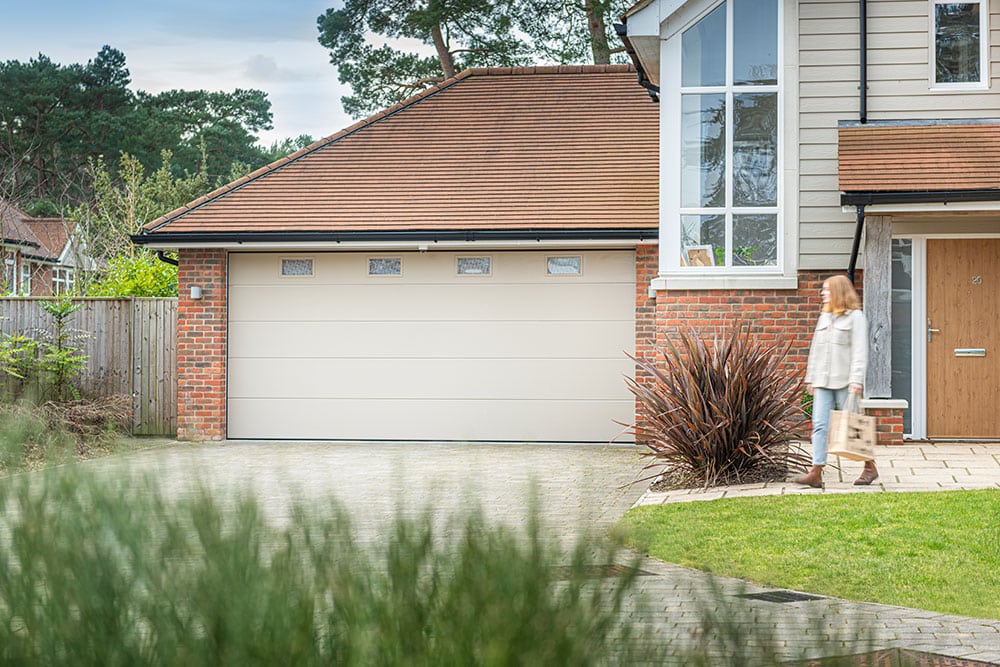 Claim your
FREE

home survey today!
Enter your details below and a member of the team will be in touch to discuss your requirements.
First up, roller doors. Roller garage doors are one of two excellent space-saving options, the second being sectional doors. Roller doors are comprised of individual slats that coil up when the door is opened. The coiled-up slats sit at the top of the door, neither protruding outwards nor into the ceiling area.  
Our roller garage doors are made from either steel or aluminium, come in two variants (Steeline and the insulated Thermaglide option), and have an array of colours and finishes.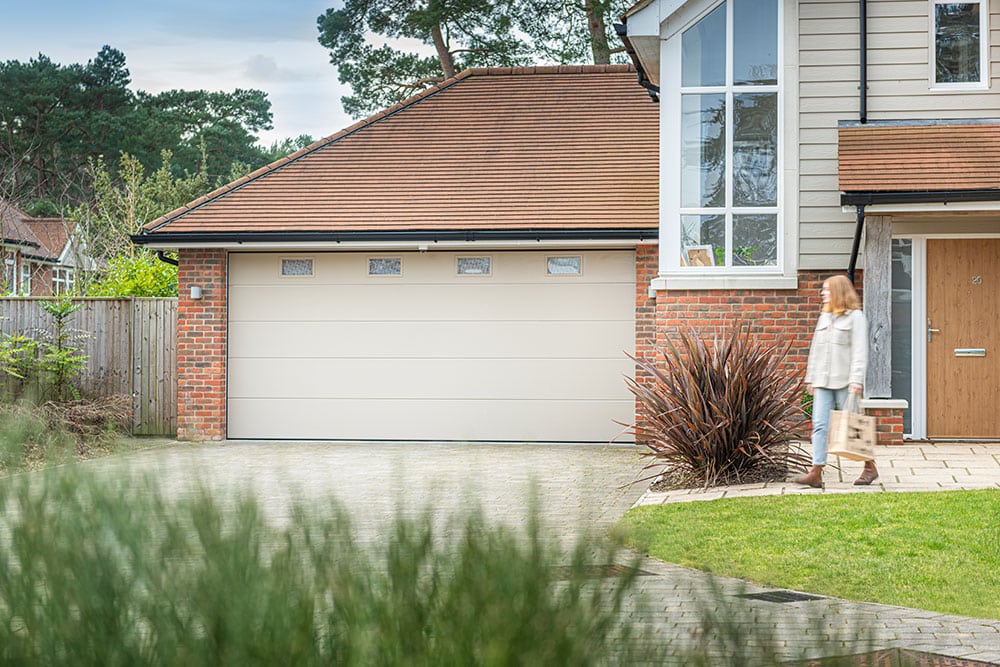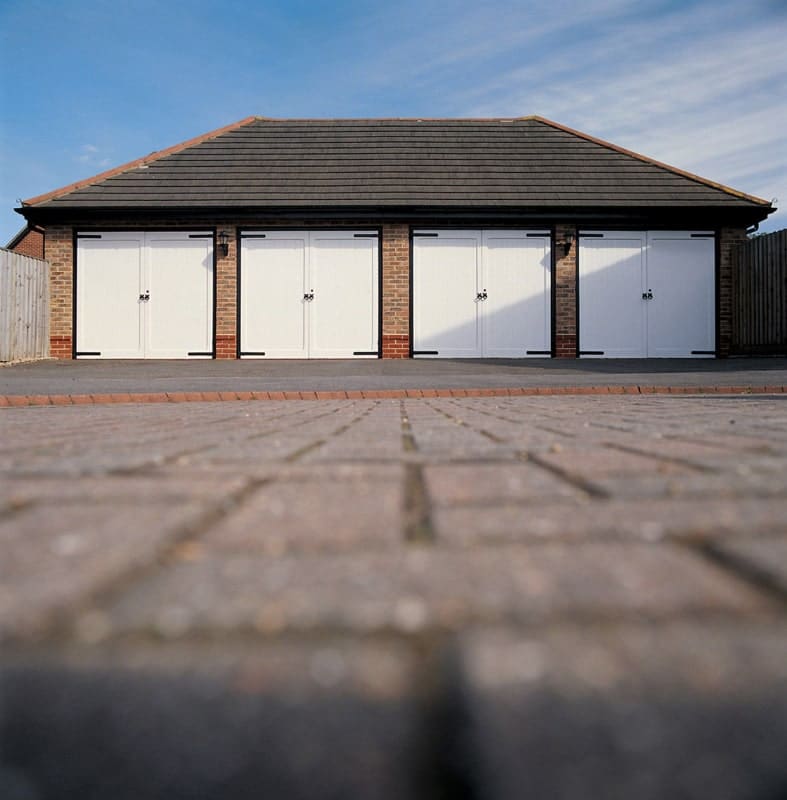 Side hinged doors differ from the other doors on this list in that they open horizontally, not vertically. Side-mounted hinges connect them on either side of the frame. Side hinged doors are available in two configurations – 50/50 and offset. In the 50/50 configuration, both doors are of equal size.  
In the offset configuration, one door is much larger than the other. The second, smaller door is the size of a standard personnel door and permits quick and easy access without opening the main door.  
Our side hinged doors are available in steel or timber and a range of styles, colours, and finishes to suit all properties.  
Technically, timber garage doors aren't a door opening type but a customisable option for all the door opening types listed here. All other door types can be supplied in timber if desired except for roller doors. We use sustainably sourced cedar wood with various styles available to suit any property. 
Timber is an excellent choice as it possesses a unique charm, is a natural insulator, and is highly strong and durable. In addition, all timber doors come with a base coat applied, ready to be painted.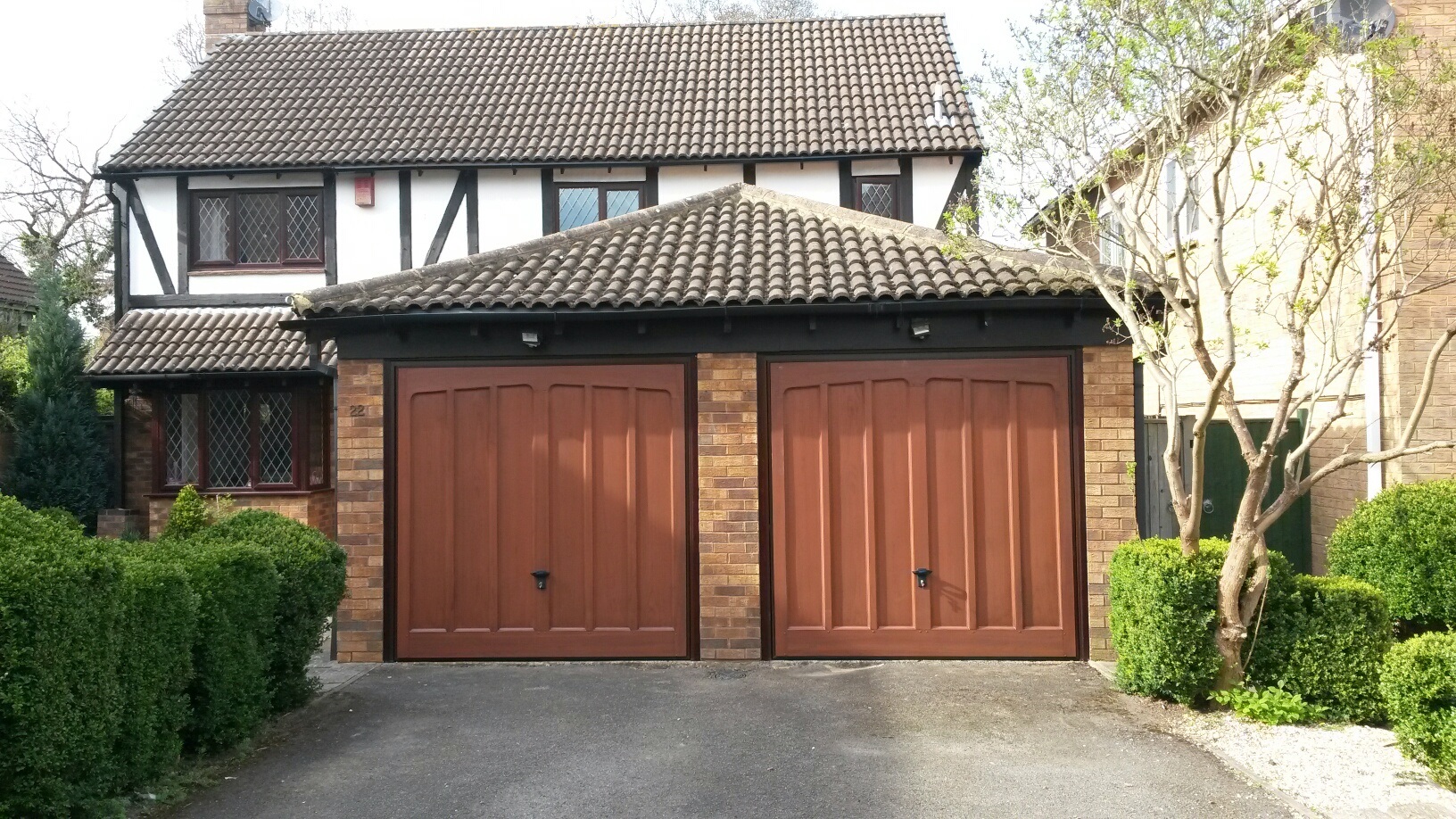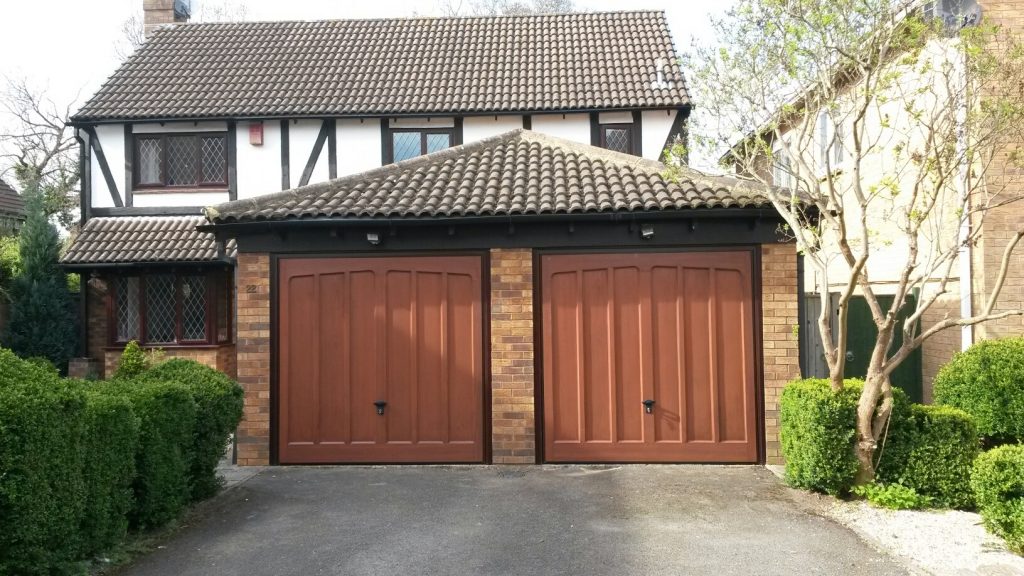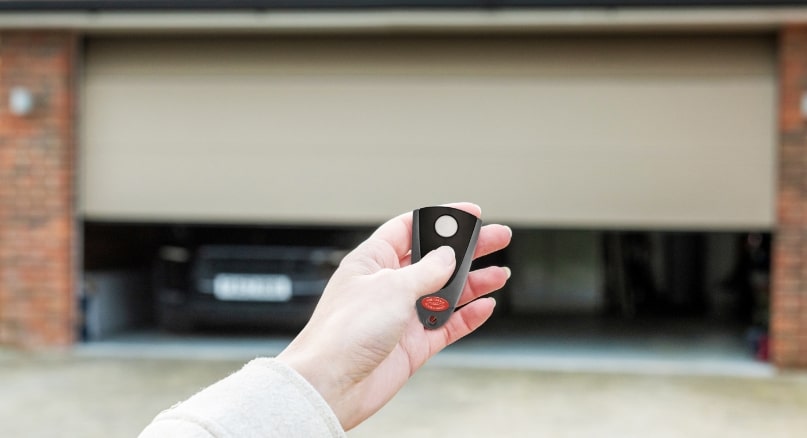 Again, electric garage doors aren't a type but an upgrade for all other door opening types. From roller doors to up and over doors, any garage door can be automated to operate with a remote, keypad, app, etc.  
Our electric doors operate up to 50% faster than standard automatic doors, thanks to high-speed integration. In addition, they feature tested security and are certified by independent institutes per the latest safety guidelines. They also feature a modern design, and every electric door has a five-year guarantee covering the electrics.  
Up and over garage doors are a traditional, budget-friendly, strong, durable, lightweight option that works well with most properties. It excels especially well in cases where a property has a larger driveway and the garage does not open onto a public footpath. As the name implies, up and over doors push inwards, kick out, and then slide up and over.  
When open, part of the door protrudes outwards, and the rest sits in the ceiling area of the garage. These doors come in various styles, colours, and finishes and are available in steel, aluminium, and GRP.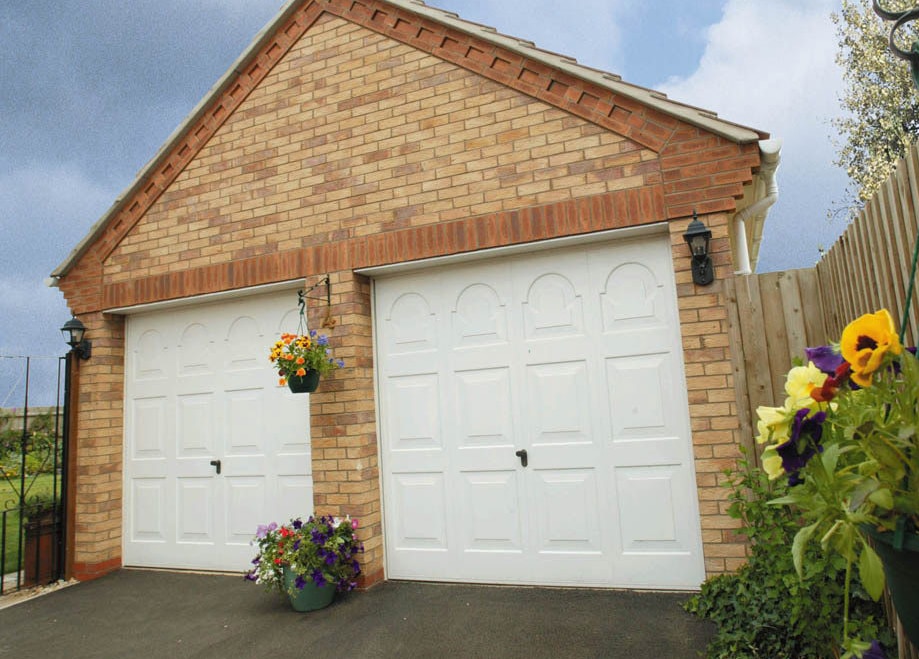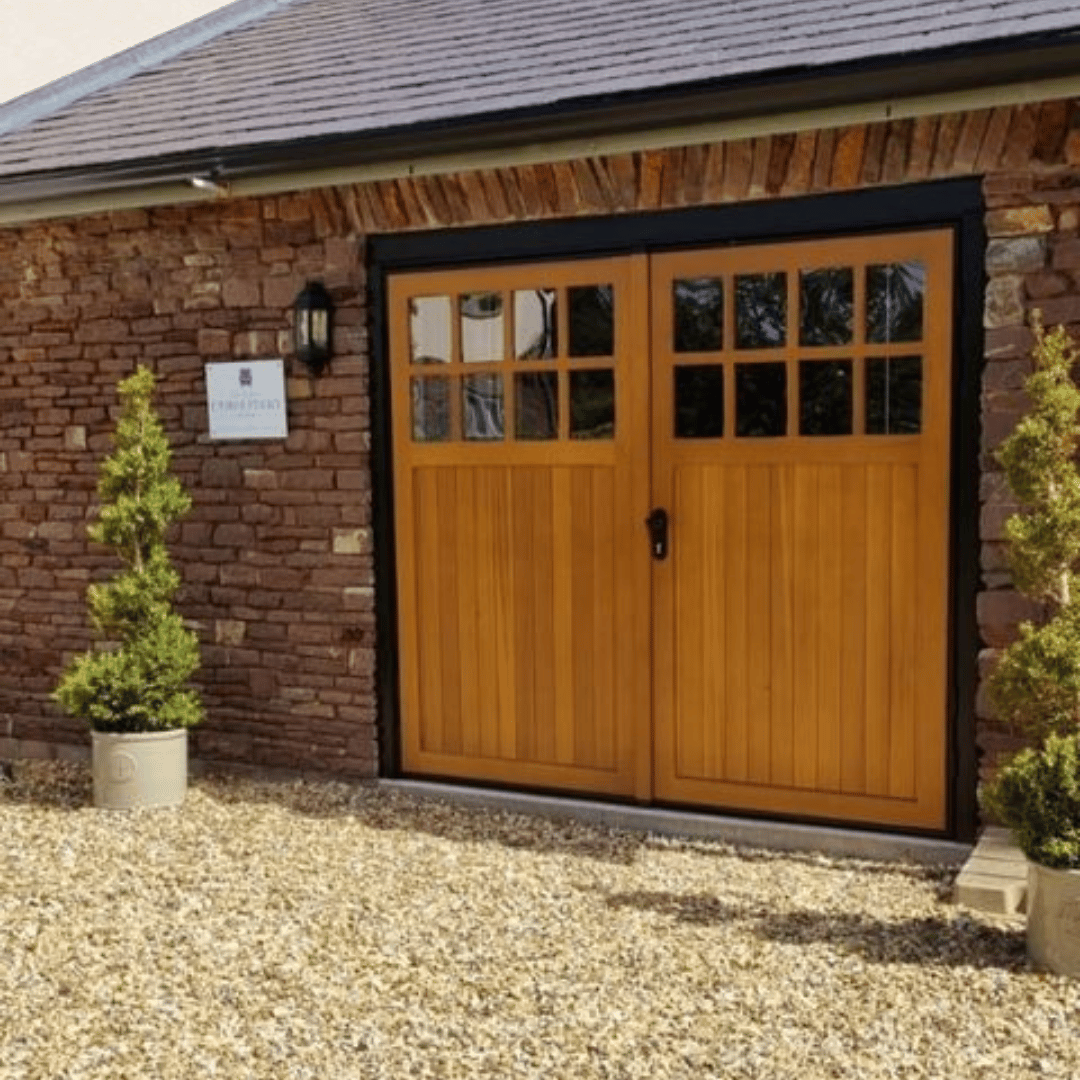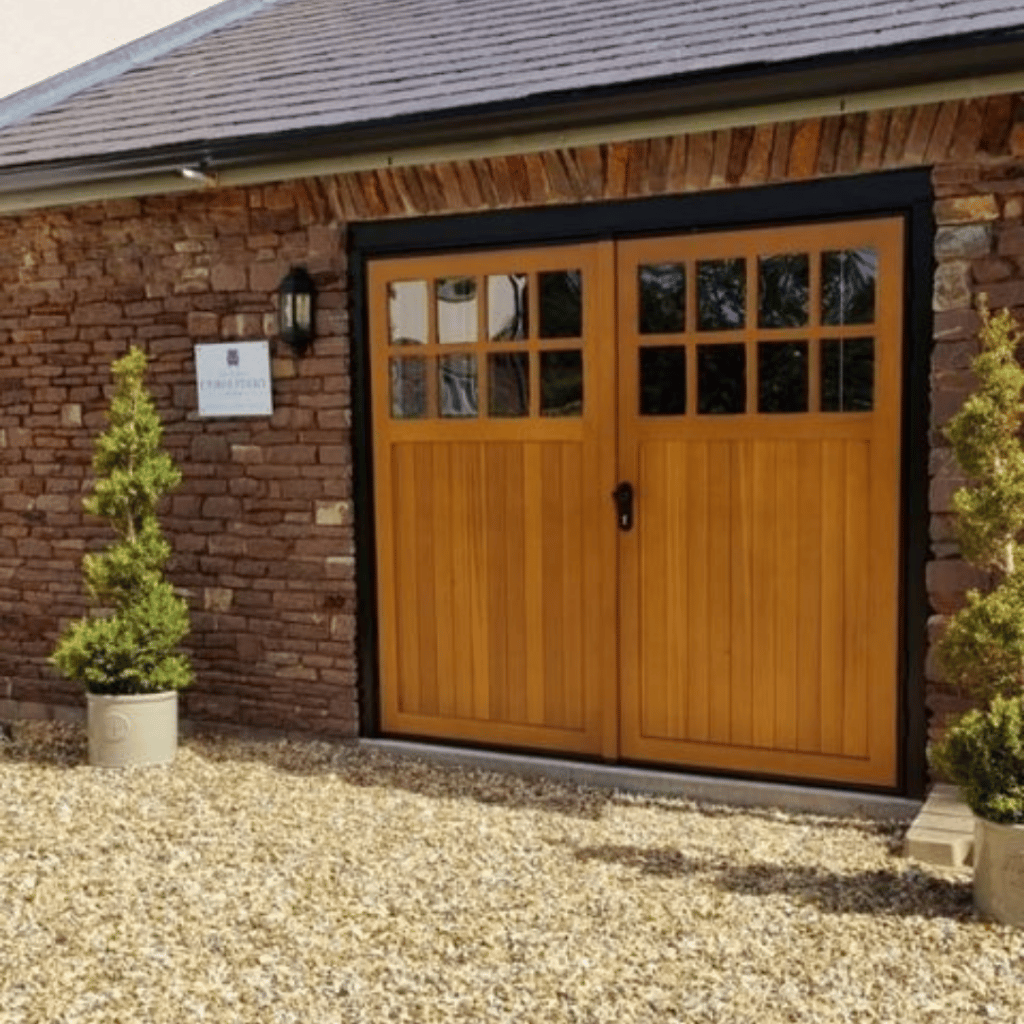 If you frequently enter your garage to fetch tools, bikes, the lawnmower, etc., and would rather not open the main door each time, a personnel door is the answer. These are the size of the doors you have in your home and are manually operated. These doors can be colour-matched to the main door and come with the same locking and insulating features.  
And help provide extra privacy and security and protect the main door, ensuring that it lasts for many more years.  
Sectional garage doors are the second space-saving option that we offer. These doors rise vertically, though they differ from roller doors in one regard. They consist of individual panels connected by hinges. As the door rises, the panels fold backwards, and the door slides into the ceiling.  
Sectional doors are great for property owners who need a space-saving solution but don't intend to use the ceiling area for storage. Our sectional doors come in timber, steel, or aluminium and sport high-performance weather protection and highly secure locks.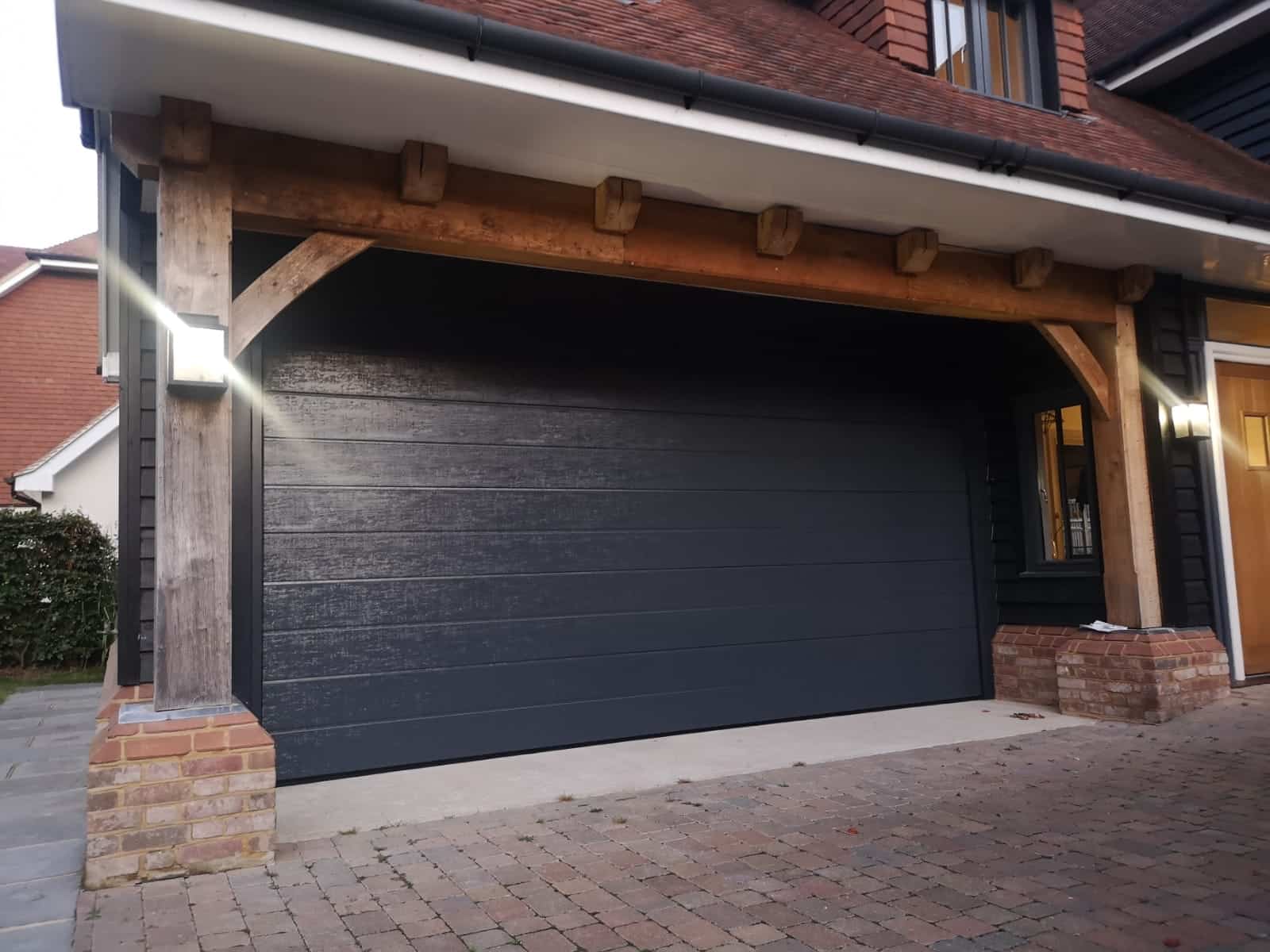 Additional Services We Offer
Besides supplying and fitting garage doors, our team can also service and repair them. Perhaps you're looking to pre-empt expensive repair costs, or your door has malfunctioned or been damaged. Whatever the case, just give us a call to find out more.  
Why Choose the Garage Door Company for Garage Doors?
Regarding garage doors, you cannot beat The Garage Door Company for experience, service excellence, and product availability.  
We always go the extra mile to bring our customers products that we would happily install outside our own homes. Our motto is German engineering built in Britain, which shows in the quality of the doors we stock. You'll also find it tough to beat us when it comes to affordability.  
Remember that you'll get 25% off your garage doors when booking your survey online. And when you bring us a genuine, like-for-like quote, we'll beat it on the spot. Plus, we have a range of finance options available, including buy now and pay later. So, you have the option to manage the cost of your garage doors however you see fit.  
So, if you're searching for the best supplier of garage doors, Bridgewater customers need to look no further than The Garage Door Company. We boast a stellar reputation that sets us miles apart from our competitors. Our attention to detail at all stages of our process is what easily defines us as the best option from which to purchase garage doors. And our excellent range ensures that you'll always find the garage doors you desire.  
Plus, thanks to our excellent online design tool, you can perfect your garage doors from the comfort of our home. Once you're done, click on a FREE survey online and receive 25% off your garage doors. With more than 30 years of experience to call on, you will no doubt find us to be highly knowledgeable and supremely efficient when it comes to garage door installation.  
To learn more, call us on 0330 912 7930, complete our online contact form, or email info@thegaragedoorcompany.ltd.uk.